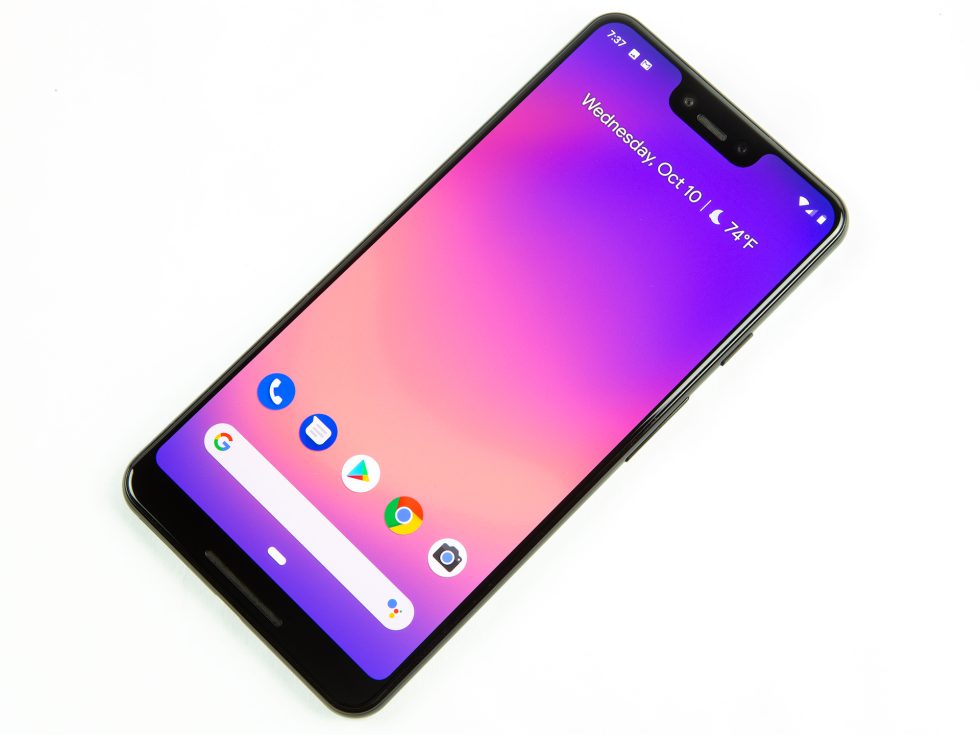 Ron Amadeo
The Pixel 3 has been one of the wildest product launches in recent memory. The leaks arrived early and continuously, starting with the screen protector leak all the way back in May. This not only gave us the basic outline of the phone, but it provided some extremely accurate renders, too, giving the Internet a look nearly five months before Google intended to ship. The initial response to the design was brutal, but it was too late—the Pixel 3 was already in the late stages of production. From there, leaks continued, and the launch lead-up felt like a slow-motion car crash. Dread it. Run from it. The Pixel 3 design arrives all the same.
It's now year three of Google's hardware initiative, and some product categories are clearly going better than others. The shining example of what Google Hardware should be is probably the Google Home brand. Google built a comprehensive lineup of unique, beautiful, well-performing hardware and paired it with industry-leading software, all at a range of prices that make the ecosystem easy to dive into.
I wish the smartphone section of Google Hardware was this good, but it just isn't yet. In smartphones Google still has an excellent (and often industry-leading!) software package, impressive performance and optimization, and an incredible camera, but it's paired with a hardware design that is firmly behind the rest of its 2018 competition. The lesser half of that equation does a disservice to the great work that goes into the rest of the phone.
So, this review is not of the Pixel that we would like to have, but the Pixel that we are stuck with: this is a thoroughly mixed bag of hardware and software at opposite ends of the quality spectrum. In 2018, how much can great software make up for a collection of not-great hardware decisions?
Table of Contents
Design and build quality
As usual, Google is launching two different phone sizes, the smaller Pixel 3 and the larger Pixel 3 XL. Besides the usual screen and battery size differences, the two devices differ in the top bezel design. The Pixel 3 XL has a notched design, while the Pixel 3 has a traditional straight bezel. Other than that, the two phones are identical, so while I only have a Pixel 3 XL in for review, everything save for the notch, screen size, and battery should be applicable to the Pixel 3, too.
One of the biggest notches ever fitted to a smartphone
Now let's talk about that notch. Like every other non-Samsung phone released in 2018, the Pixel 3 XL screen goes all the way up into the top corner of the device, and then a big chunk is cut out of the top middle of the screen to fit various components. In addition to the notch, there's also a sizable bottom bezel featuring one of the two front stereo speakers.
SPECS AT A GLANCE
Pixel 3
Pixel 3 XL
SCREEN
2160×1080 5.5" (440 ppi)

OLED, 18:9 aspect ratio

2960×1440 6.3" (523ppi)

OLED, 18.5:9 aspect ratio

OS
Android 9.0 Pie
CPU
Eight-core Qualcomm Snapdragon 845 (Four 2.7GHz Kryo 385 Gold cores and four 1.8GHz Kryo 385 Silver cores)
RAM
4GB
GPU
Adreno 630
STORAGE
64GB or 128GB
NETWORKING
802.11b/g/n/ac, Bluetooth 5.0, GPS, NFC, eSIM
Bands
GSM: 850, 900, 1800, 1900
CDMA: BC0, BC1, BC10
FDD-LTE: 1, 2, 3, 4, 5, 7, 8, 12, 13, 17, 18, 19, 20, 25, 26, 28, 29, 32, 66, 71
TD-LTE: 38, 39, 40, 41, 42, 46
PORTS
USB 3.1 Type-C
CAMERA
12MP rear camera, 8MP front camera
SIZE
145.6×68.2×7.9mm (5.73×2.69×0.31 in)
158×76.7×7.9mm (6.22×3.02×0.31 in)
WEIGHT
148g (5.22 oz)
184g (6.49 oz)
BATTERY
2915mAh
3430mAh
STARTING PRICE
$799
$899
OTHER PERKS
USB-PD quick charging, fingerprint sensor, IP68 dust and water resistance, Active Edge, Pixel Visual Core, Titan M security module
The Pixel 3 XL isn't just a notch design, it has one of the biggest notches ever fitted to a smartphone. Nearly every other smartphone manufacturer has kept its display cutout only as tall as a normal status bar, but Google's notch is twice as tall as normal, making the status bar twice as tall as normal. This means less usable space for apps and an awkward look to the whole top of the phone. Google's notch houses two front-facing cameras—one wide-angle, one normal—and an earpiece/speaker.
There isn't a huge range of variability in modern smartphone designs, but it's hard to not call the Pixel 3 XL one of the worst smartphone designs of the year. If we made the Design Power Rankings for notched smartphones, how many phones would you place below the Pixel 3 XL? I think every phone that fits the notch inside a standard size status bar height is doing a better job than Google—that's every iPhone X variant, the OnePlus 6, LG V40, ZTE's Axon 9 Pro, and like a hundred phones from Xiaomi, Huawei, and Oppo. Some of these companies are on second generation notch designs, producing really minimal notch designs like the Oppo R17 and OnePlus 6T. Even something like the Essential Phone—which has the same double-height status bar as the Pixel 3 XL—isn't nearly as wide as the 3 XL notch, so you can see a lot more status icons.
I don't think there's a single flagship smartphone design from 2018 or 2017 that you can say Google has beaten with this release. In fact, you don't even need to stick to flagships to come up with something competitive to Google's design here. Is the $349 Nokia 7.1 design better than Google's $900 smartphone? They look nearly identical, but the Nokia 7.1 doesn't have a double-height status bar. That fact that we can even make this comparison is embarrassing for Google.
And thus far, Google doesn't seem to be bragging about the Pixel 3 and 3 XL design. While watching the Pixel 3 announcement it struck me as odd just how hard it was to catch a clear view of the bezels or notch. During the presentation, Google primarily showed the back of the phone, and whenever the phone flipped over, the camera zoomed into the screen and cut off the bezels. If you did get an unobstructed look at the front, it had a dark image, which did a decent job of hiding the bezels and notch.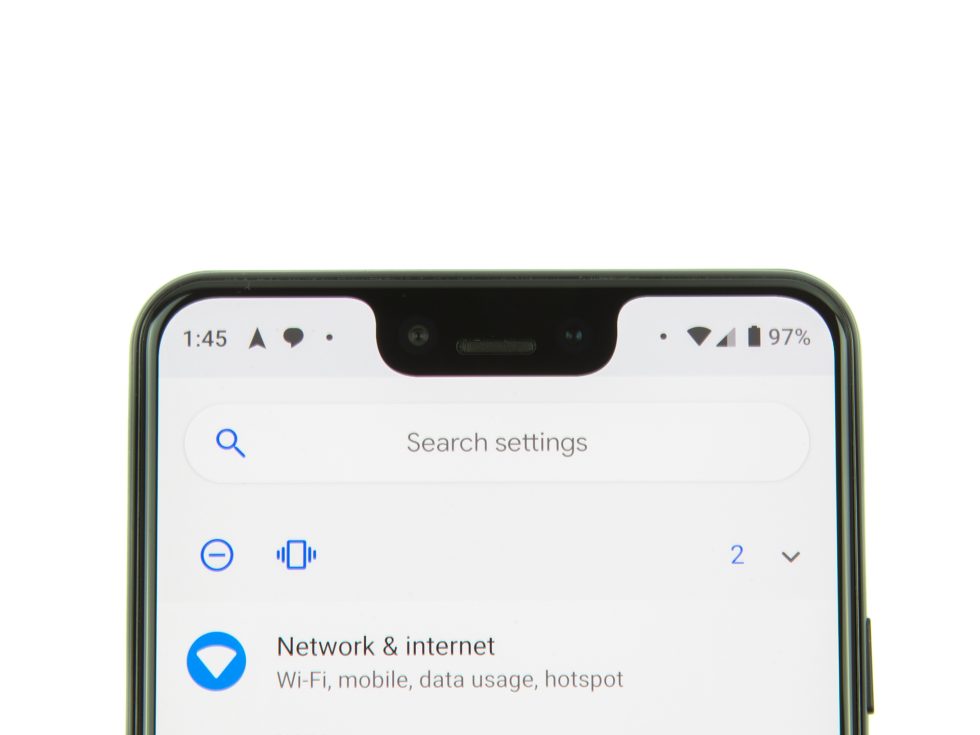 Ron Amadeo
The notch design isn't just embarrassing, it actively hurts the phone usability. The status bar might be twice as tall as normal, but horizontally, it doesn't have nearly enough room to work with. On the left side, you'll usually be able to see a whopping two or three notification icons. If you have exactly three icons, you can see three notifications icons. But usually the third slot is taken up by the "more" icon, so you only actually see two icons.
On the right side, you see the battery icon, LTE and Wi-Fi connectivity, and then about three status icons for vibration/silence, alarm, do not disturb, hotspot, and Bluetooth. I like to have the battery percentage enabled on my phone, so I get to see the battery and connectivity information... but then I run out of space. On the Pixel 3 XL, I have to choose between seeing the battery percentage at a glance, or knowing if the phone is on silent or has an alarm set. In other phone reviews, I've purposely tried to overload notched status bars to see how they work, but I don't have to try that with the Pixel 3 XL—it cannot handle my normal status bar loadout. To be fair, this is a problem on iPhone X-style iPhones, too. Both Google and Apple are supposedly designing their hardware and software together, but neither one really addressed the lack of status bar space with a notch design.
Google should have done something about the status bar icon limit. What good is owning the hardware and software if you don't make the two work well together? Smaller icons would have helped, or maybe Google could have come up with something that uses the extra vertical space on the status bar. Or, it could have designed the icons to be more compact and more respectful of horizontal space given that horizontal space is limited. In Android 9 Pie, Google did move the time over to the left side of the screen to try and balance the status bar on either side of the notch, but that's just not enough in practice.
As a user, you can try to mitigate the icon limitation somewhat by setting the display size to "small," which will make everything on the entire phone smaller, giving you an extra icon slot on either side of the notch. This is definitely not an elegant solution to this, though, and some people won't like the smaller text. In terms of aesthetics, many Android smartphones have an option to hide the notch by blacking out the notch area and only showing icons there. Google doesn't yet have a consumer-facing option to do this, but it has said it will add one. In the meantime, there is an app called "Nacho Notch" that can hide the notch on the Pixel 3. The only downside is it needs to spawn a permanent notification to work.
Thanks to Android Pie, you can also jump into the developer options and change the display cutout emulation to "none." This will completely disable the notch area and give you a full, normal size status bar just below the notch. The result is basically zero year-over-year bezel improvement versus the Pixel 2 XL, but it's an option.
The justification for the huge notch on the Pixel 3 XL and the sizable top bezel on the Pixel 3 is the front-facing earpiece/speaker and the dual camera setup. We'll deal with the camera functionality in the camera section, but in terms of device design, Google seems to be behind the pack here. A lot of other OEMs are able to fit this functionality into a normal height notch, and while this is pretty much the only device with two front cameras, a second camera should just take up more horizontal space, not more vertical space. Apple managed to pack the iPhone X notch with a ton of components for Face ID, and it still keeps everything inside a normal-height status bar.
Soft touch glass?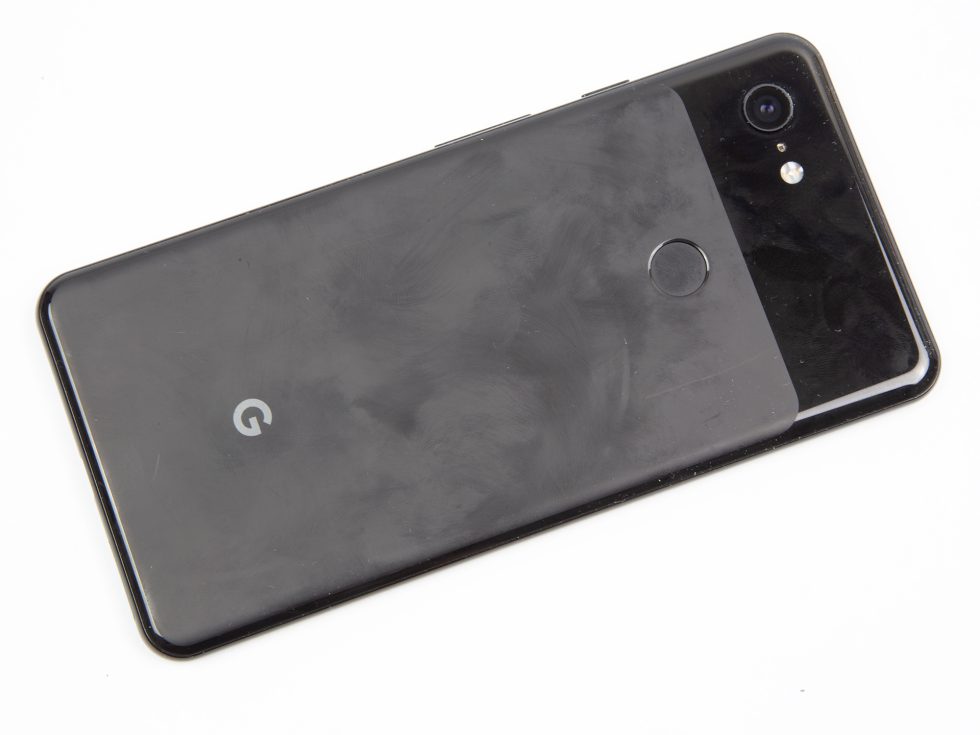 The backs of the Pixel 3 and 3 XL get a big downgrade this year and switch from the Pixel 2's metal body to being yet although fragile flagship with an all-glass back. The Pixel 1 and 2 both used metal for the majority of the back, and then those phones had a glass window on the top to let all the wireless signals in and out. The shiny glass top and matte body gave the phone a two-tone look, which was one of the few distinctive qualities of the Pixel line's design.
The Pixel 3 back is now a single sheet of Gorilla Glass 5, but that doesn't mean the two-tone look is gone. Just like the previous Pixels, the majority of the back is still mate while the top is still shiny. The back is the same hard Gorilla Glass finish you would expect, but Google is calling the matte part "soft touch glass." It sounds like an oxymoron, but the matte portion really is "soft touch glass." It reminds me of soft touch plastic at first, and it has a pleasant satiny texture to it.
After a few minutes with the soft touch glass though, that good first impression really wears off. The back absolutely soaks up skin oil and quickly gets gross. That's not easily remedied with a quick wipe either—this surface really holds on to the oil and needs a vigorous rubbing to get clean. The soft touch glass is also, well, soft, and it scratches easier than normal Gorilla Glass. You can make an impression in it with something as soft as a fingernail, or you can draw on it with a light press. While lighter impressions will wipe away, anything even hard or sharp will permanently damage the back. Both of the models I photographed at Google's event had permanent scratches on them that would not wipe off. There are simply a great many materials that will skate across the shiny Gorilla Glass top and dig into the matte portion.
Google hasn't gone into detail about how the Gorilla Glass etching works (Corning has an etching and coloring process for Gorilla Glass 6, but it's unclear if this is the same thing on Gorilla Glass 5). If I were to guess at what's happening, I would say the etching leaves a microscopic, bumpy finish, and it's easy to break off the little bumps with anything hard or sharp enough. I would also guess that this bumpy finish allows skin oil to cling to it.
So, the soft touch back doesn't really work out in practice. These glass smartphones pretty much need a case, since any single drop will probably result in a shattered panel. But Google attempted to make the back feel nicer to the touch, which suggests you shouldn't use a case. However, the soft touch back is easier to scratch, which means you really should use a case. This tradeoff of a nicer feel for less durability doesn't really make sense. The sales pitch for Gorilla Glass has always revolved around its scratch resistance, but this soft touch glass really is the worst of both worlds: all the fragility of Gorilla Glass, none of the scratch resistance.
The reason for all of this glass is the new wireless charging feature. Just like most other phones from 2018, the Pixel 3 features a Qi charging coil. Google is also selling a wireless charging accessory called the "Pixel Stand" for a whopping $79.
The phone has a glass sandwich construction, so besides the front and back glass panels, the frame is exposed all around the sides of the device. The frame is aluminum, but it has a "hybrid coating" that I really dislike. The coating quickly turns into a greasy, slippery fingerprint magnet after a few minutes of handling. The coating lets Google color match the sides of the phone to the glass panel, but I would have really preferred anodized aluminum.
Everything else
The Pixel 2 XL had a lot of display issues thanks to a deal with LG to supply its OLED panels. These included easy burn in and really gross graininess in low light conditions, both of which definitely put the display behind the competition. On the Pixel 3 XL, I can say the display is greatly improved. The extreme graininess in low light is gone, the colors are great, and I haven't seen any burn in. The display isn't quite as bright as the Galaxy Note 9 screen, but there isn't a huge difference. Google has made big strides here and now has a display worthy of a flagship.
The Pixel 2 XL's front facing speakers weren't great either. Google made big concessions on the front of the device to fit two-front facing speakers, and while that seems great on a spec sheet, in reality the sound performance wasn't there. Other manufacturers produced better sound without sucking up a ton of space on the front of the phone, making Google's Pixel 2 design unjustifiable. There was so much room for improvement that this year Google made the Pixel 3 speakers a whopping 40 percent louder. In testing, I can say that this is a big improvement, and the Pixel 3 speakers are bigger and louder than every other smartphone, making them a justifiable tradeoff. In a side-by-side test, the Pixel 3 XL was undeniably louder than the iPhone XS Max, although the iPhone had a tiny bit of a kick that wasn't present in the Pixel 3 XL speakers.
While the tradeoff of bigger speakers and less screen real estate for best-in-class sound is justifiable this year, it's still not a tradeoff that I want. The iPhone XS Max sounds great, and it produces this great sound while maximizing screen space. Phone speakers are still tinny, bass-less noise-makers that probably won't ever be at a level where they are decent for playing music. For something that is only really good for notifications, speakerphone, or the occasional bleeps and bloops of a video game, I'd prefer a more compact speaker package.
While we're on the subject of sound, once again there's no headphone jack, which is disappointing. The phone does come with a digital USB-C to 3.5mm jack (USB-C audio is a hot mess and comes in incompatible "digital" and "analog" flavors) and Google-branded USB-C earbuds. Like the Pixel buds, these earbuds are made of hard plastic, so the shape has to be a perfect match for your ears to not cause pain. They were not a perfect match for my ears.
There's no MicroSD slot for expandable storage, and the highest storage tier is still only 128GB. Storage junkies will have better options with Samsung and Apple's 512GB phones, and Samsung even offers MicroSD support on top of the base 512GB. One new Pixel 3 feature that might suck up a sizable amount of space is the new camera RAW support, which offers more flexible image files that are often 10x the size of their JPG counterparts.
The software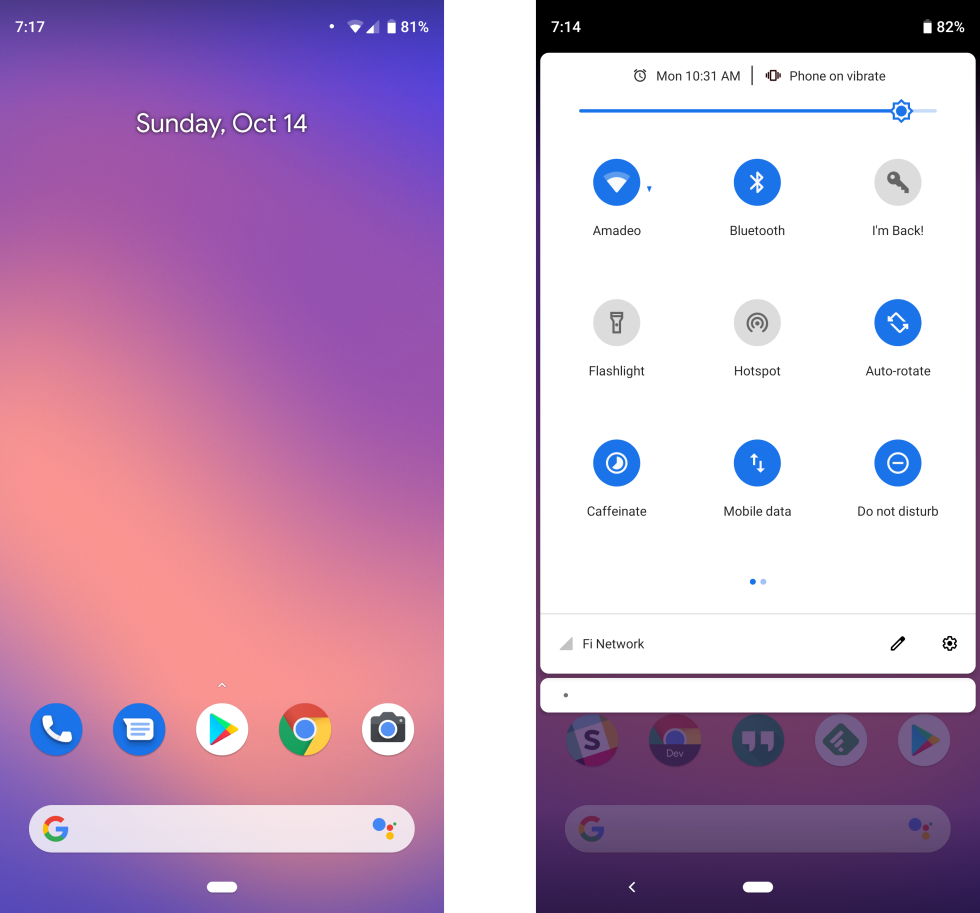 The software package on the Pixel is typically the best you can get from Android. Most OEMs take Android and try to rebrand the operating system into their own thing, but because they are unable to rebrand the whole software package, they end up fracturing the phone in two. OEMs can rebrand Google's operating system interface, but they can't change the proprietary apps like the Play Store, Gmail, and all the other Google apps.
A stock Android phone is the only Android software loadout where the operating system isn't at war with itself. Google and the OEM aren't fighting over app selection and home screen space, and there's no carrier auctioning off parts of your $900 phone to the highest bidder. The whole software package is built for one purpose, without duplicate app selections serving different masters. This is the cleanest, most cohesive, best Android package out there.
Google is the only Android OEM that offers update support, with day-one updates to all the new Android releases and monthly security updates for three years. Every other Android OEMs takes months to release an update, but Android's fragmentation and slow update problems are not your problem when you buy a Pixel. With the cohesive software package, no crapware, and day-one updates, this is the only Android package that approaches iOS.
The Pixel 3 ships with Android 9.0 Pie, and there's not much we can say about it over the 19,000 words already in our review. The one big change is in the navigation system, and, well, it's not great.
Mandatory gesture navigation
The first change—and probably the biggest negative of the Pixel 3 right now—is that Android 9 Pie's gesture navigation is on by default and cannot be turned off. I tried to get used to this, on and off, for months with the Android Pie beta, and it's just not any good. It's not unusable, but everything just takes longer to do and feels less accurate. For a basic function like system navigation, which you can use literally hundreds of times a day, this is really annoying.
Gesture navigation takes Android's normal "Back," "Home," and "Recent Apps" button layout and just removes the Recent Apps button, making the whole bar look lopsided. The home button, which is normally a circle, changes to a pill shape, and now you can swipe up on it to open the Recent Apps interface. A swipe left on the pill will switch to the previous app, and a swipe right on the pill doesn't do anything at all. That's right—there's no gesture for "Back." The back button is still here and just awkwardly hangs out to the left of the home button whenever you are in an app.
Recent apps is also really clunky. Swiping up on the home pill opens Recent Apps, but it also opens the app drawer if you keep going. So, usually you open Recent Apps and then half-open the app drawer, which slides back down the screen after it realizes you don't want to open it. Putting the app drawer on the Recent Apps screen was supposed to be a benefit, letting you open the app drawer from anywhere. But since this is the only way to open the app drawer now, it's just a lot harder to get to. With normal navigation, the app drawer was just a swipe away on the home screen. Now you need two swipes, or one unreasonably long swipe that covers like 75 percent of the phone screen.
There's also a scrubbing gesture for Recent Apps, which you can access by swiping right on the home button and then keeping your finger down and moving left and right. This will rocket through the recent apps list and open whichever app you stop on. I've never found a use for it, since it's really finicky and hard to control.
On the iPhone X, gesture navigation saves space. The company was able to go from a hardware home button to a nearly all-screen device, and while there is a minimal gesture area reserved for the system, iOS apps are still allowed to draw behind it. On Android, the gesture navigation doesn't save any space. The navigation bar is still just as big as it has always been. In that case, why not just use the space for simple and direct buttons?
While the Pixel 3 design was widely disliked online (just read these comments), it was a piece of hardware that was too far into development for Google to do anything about it. Gesture navigation was widely panned online, too. Google went through the entire Android 9 Pie beta process with months to evaluate the gesture navigation reception and do something about it. But Google never addressed any of the gesture navigation complaints and just kept charging ahead.
It would be easy to say this is Google's first time building a gesture navigation system, and not everything is going to be great for version 1.0. That's fine, but then don't make it mandatory. There's no way to turn off gesture navigation on the Pixel 3, and it's just not ready for full time usage. It's not "fear of change," it's "fear of using an unpolished system as the basis of navigation." The best thing Google can do to help the Pixel 3 is patch in an option to turn this off.
Call screening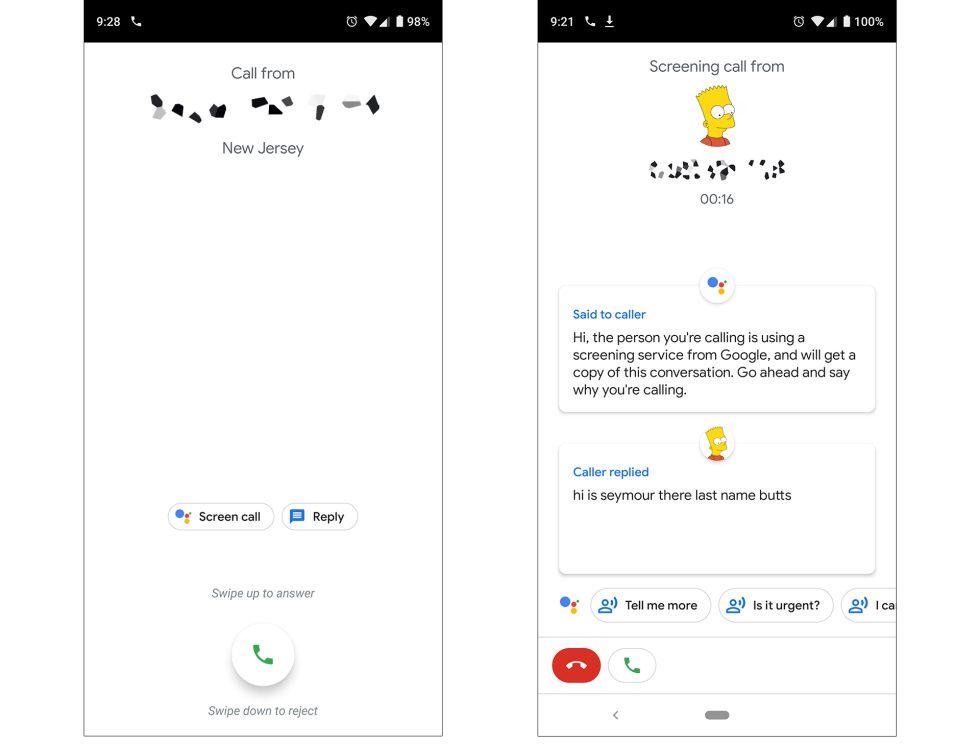 The big other addition is Google Assistant-powered call screening. Press a button on the call screen and the Google Assistant will pick up the call and ask who is calling and why. It's important to note that this isn't using Google's revolutionary "Google Duplex" voice technology, which replicates human speech and can automatically respond to questions on your behalf. Instead the Google Assistant will spit out one of several canned, robotic voice lines and will transcribe the answers from the caller. The transcription all happens on the call screen, making it look more like an instant messaging app than a phone call. You don't get to listen in on the call, either, so this is a nice way to silently answer a phone call.
If the caller's reply to the automated greeting isn't good enough, you can have the Assistant speak a few follow up responses like "Tell me more," "Is it urgent?" or "I can't understand." There are also hang up responses like "Call me back later" or "I'll message you."
While this is all text-to-speech powered, you don't have control over any of the text. In the future, it might be useful to be able to pop-up a keyboard and type a custom response, or to add a custom response to the list of pre-canned replies. Additionally, there are no settings and no other current languages supported other than English.
This conversation text disappears after the caller hangs up, and it goes away so quickly and involuntarily that often you won't be able to read the last thing the caller said. It really seems like this information should be saved under the call log or messaging app. If a wiretapping law is preventing this, the conversation should at least stay on the screen until you confirm you have read it. Right now, the phone app just vanishes after the call—often while you're in the middle of reading it.
For those wondering about actual, live Google Duplex technology, Google says Duplex-powered booking is coming to all the Pixel phones in November, but only for users in the San Francisco Bay Area, New York, Atlanta, and Phoenix. It will also only work with companies in those areas that opt-in to the service. Good luck nailing that list of prerequisites.
Performance
The general performance of the Pixel 3 is fantastic. Every year it seems like the Pixel phones get faster and more optimized. I'm not talking about benchmark scores, but the actual UI performance of the phones. The smoothness of scrolling, the touch response, and the animation of the interface is all the best it has ever been on any Android phone. Google tweaks, tunes, and optimizes Android like no one else, and that makes sense. Google built Android, so Google knows all the best practices for everything, and the company can changes whatever it needs to change to make the hardware and software work well together. You really can't overstate how much better the Pixel runs compared to any other Android phone.
We have seen reports that some players on 4GB Android devices are encountering an issue causing poor performance. This is due to multiple background applications running--leaving the device without enough memory for Fortnite. We are investigating and working on a fix!

— Fortnite (@FortniteGame) August 14, 2018
Google is doing this with the same SoC everyone else uses (the Qualcomm Snapdragon 845), and it's doing it with a lot less RAM than everyone else uses (the Pixel 3 only has 4GB of RAM). The Galaxy Note 9 comes with 6 or 8GB of RAM. The OnePlus 3, released all the way back in 2016, came with 6GB of RAM, and since then the company has offered 8GB of RAM in its phones. Of course, more RAM is not purely a net gain, as we learned from an interview with Android Engineers earlier this year. More RAM means more battery usage, since it is always on.
iOS might get away with 4GB of RAM on high-end iPhones, but that's a totally different operating system. Game developers like Epic already having problems making Fortnite run on 4GB Android devices, though, we've got to wonder if the longevity of the Pixel 3's hardware will be hampered by limited RAM.
The Pixel 3 has seen massive improvements in storage performance thanks to a one-two punch of UFS 2.1 storage and a switch from Ext4 to the F2FS file system. F2FS stands for "Flash-Friendly File System," and it was created specifically for flash memory by Samsung (a company that also happens to be the world's largest manufacturer of flash memory). This isn't the first Android phone to use F2FS, as we've already seen OnePlus, Motorola, and Huawei use it on devices. Still, this approach makes a big difference. Some implementations of F2FS have developed fragmentation issues over time (disk fragmentation, not Android's typical fragmentation), but there's no telling how Google's implementation will fair.
For now, the performance is great, and Google is turning in some of the best Androbench scores we've ever seen. Anyone that was around for the computer switch from rotational hard drives to SDDs knows just how big of a deal faster storage speeds are. Apps launch quicker, the phone boots faster, and everything runs a lot more smoothly.
Battery life on Pixel phones greatly improved with Android 9 Pie, and that continues with the Pixel 3. Screen-on time is fine and hasn't been affected much, but the background processing changes in Pie make a big difference for idle power drain. If you're not using the phone, the battery doesn't go down much. If I know I'm having back-to-back days of light usage, some days I won't even charge the phone at night.
Still, in a device the size of the Pixel 3 XL, Google could do better with the battery. The Pixel 3 XL's 3430mAh battery is smaller than last year's Pixel 2 XL, while Samsung recently crammed a 4000mAh battery into the similarly sized Note 9. The Huawei Mate 20 Pro is also packing in a 4200mAh battery into a 6.4-inch device.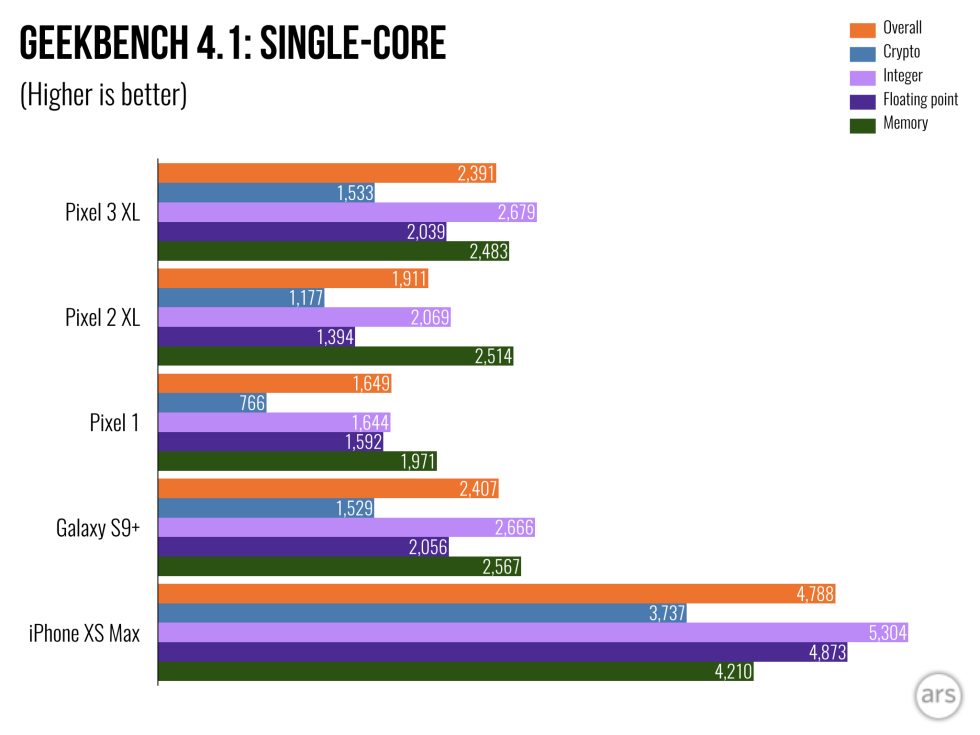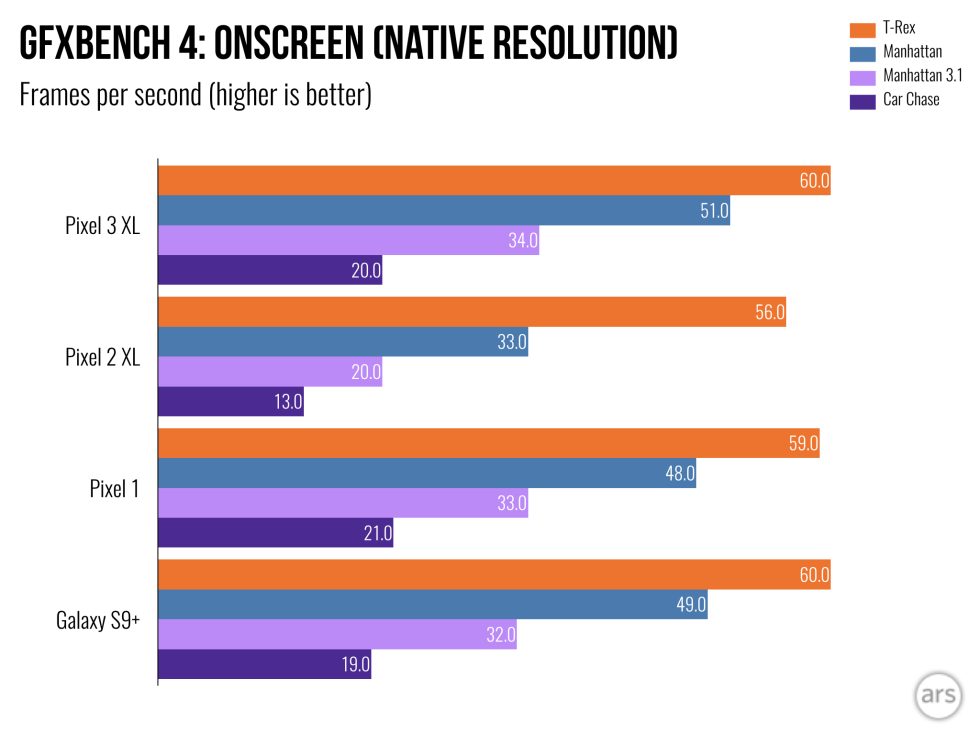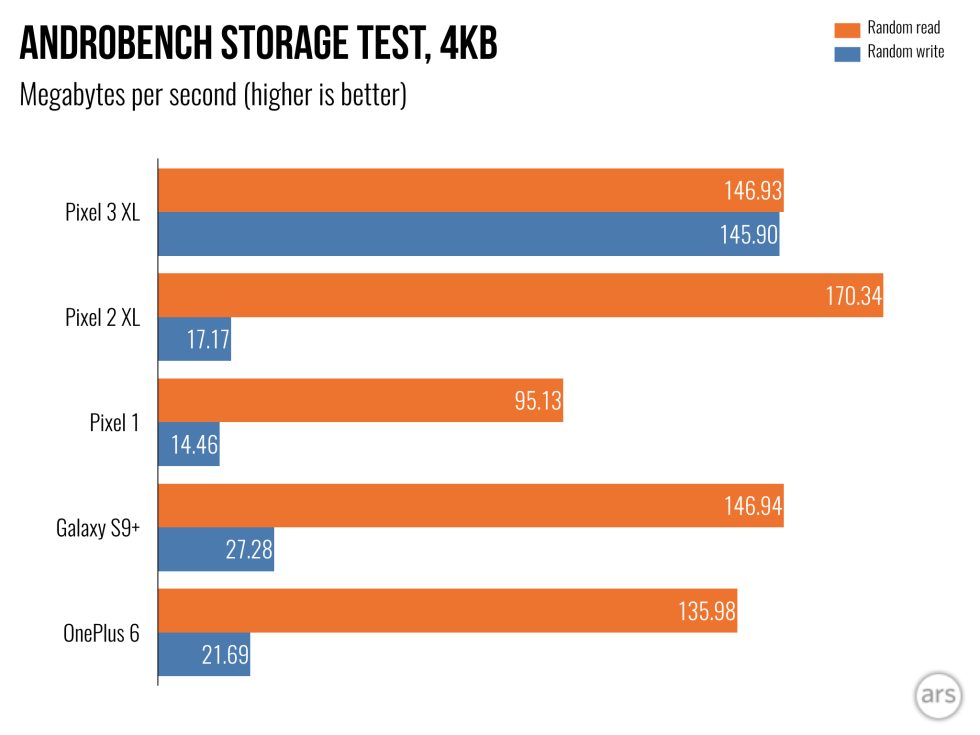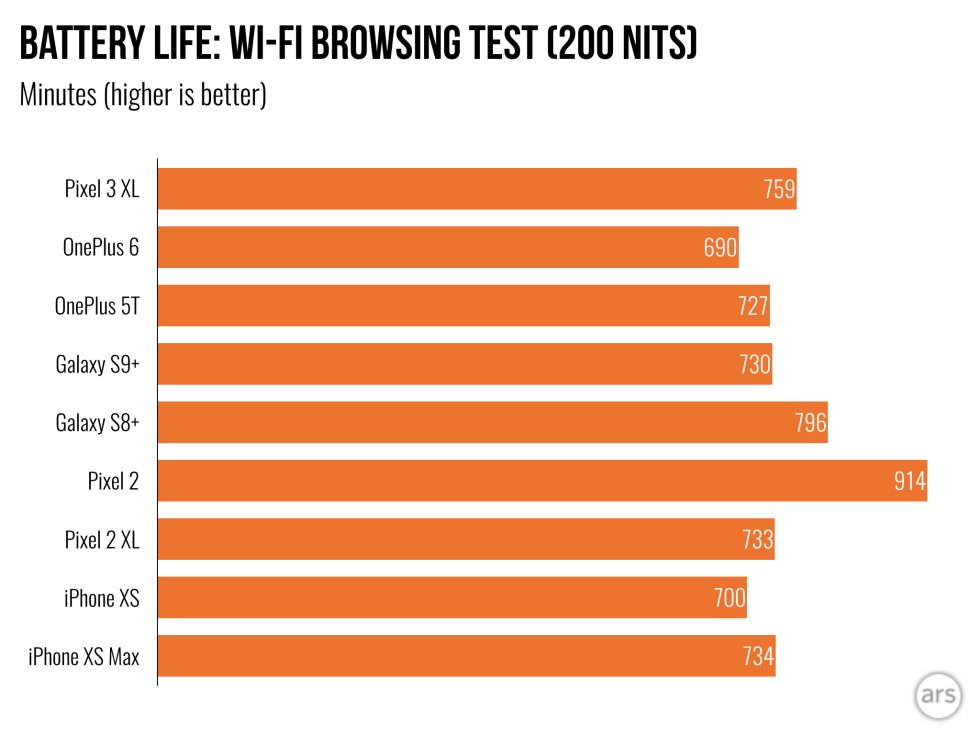 Camera
The camera is always a highlight of the Pixel phones, and this year is no different. Google is going all out with features and functionality, and somehow this phone produces image quality that blows away last year's already great Pixel 2. At the core of everything is Google's "computational photography" techniques, which use machine learning and multi-image merging and alignment to overcome the tiny lenses and sensors smartphones are saddled with.
For hardware, we've got a single rear 12MP camera with optical image stabilization. On the front, there are actually two cameras, one for normal selfies and one that's a wide-angle lens. The wide-angle lens pumps out the same quality pictures as the normal selfie lens, but it's kind of like a built-in selfie stick, allowing you to take a group shot or see more of the background.
There are so many features to cover, it's worth doing so one-by-one.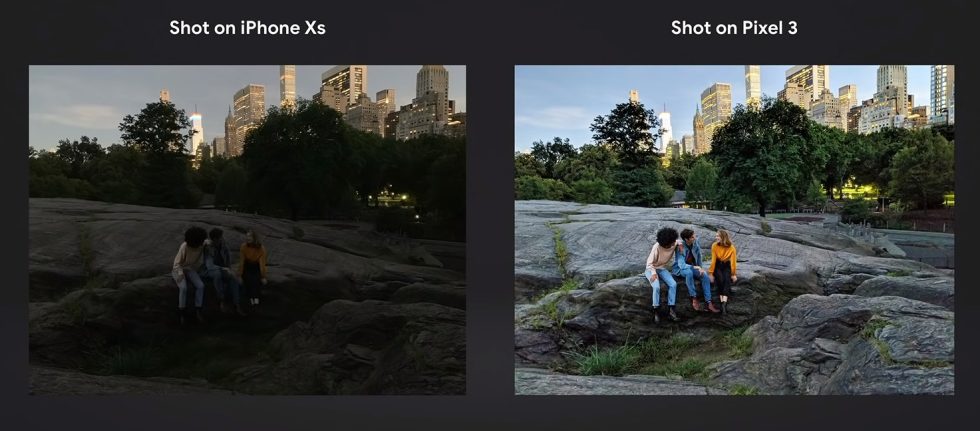 Night Sight
Google threw some major shade at Apple with the above picture comparing a low-light iPhone Xs photo to "Night Sight," an upcoming Pixel 3 feature. We can't evaluate this claim since the feature isn't out yet, but Google has described the feature as capturing multiple photos and combining them to make a single image. Google has previously done this for HDR, which would take images at multiple different exposures and combine them, but for Night Sight it's taking multiple shots, aligning them, and averaging out the noise.
This sounds a lot more dramatic than HDR, as Google says to expect four to five seconds of shutter lag while it captures all of these images. Google also expects this feature to work in lighting so low that it won't have great color data, so it's using machine learning to fill in the blanks.
Google's AI Blog posted an article outlining a multi-image approach to low light photography, and it produced incredible results. This research was all done with a tripod and manual image alignment, though. Night Sight claims to be able to automate this work, and (presumably) it will all work in handheld-length exposures. We can't verify any of these claims since the feature isn't out yet, but Google says it will launch sometime in November.
Super Res Zoom
Another multi-image combination technique, but this time the intent is enhanced resolution, which is used to mimic a 2x zoom (but better). Google doesn't have a second lens for zoom on the back of the Pixel, but it has a good stand-in with this technique.
Top Shot
With the launch of Motion Photos alongside the Pixel 2 last year, the Pixel camera started taking a short video along with your picture whenever you pressed the shutter button. The video is saved in a buffer the whole time the camera app is running, so when you press the shutter button, a full resolution picture is saved and a video is saved starting about a second before you pressed the shutter button.
Top Shot is an extension of this motion photo feature. It looks at your saved photo and scans the motion video frames for a better image. It's looking for things like focus, smiles, and open eyes, and if it finds something better than the photo, it will recommend you "save a copy" of the recommended video frame. Top Shot isn't a special mode, it just runs all the time as long as you have motion photos on.
The downside of Top Shot is that a saved video frame is not as good as a real 12MP photo. While the photo might be something like a 6MB, 4000x3000 image, the captured video frame is a 185K image with a resolution of 2000x1500. If you choose to keep a copy of the recommended video frames, you'll see a noticeable downgrade in terms of color and clarity. A blurry photo or a photo when someone is blinking is useless, though. So, while Top Shot is better than a bad photo, it's not as good as a good photo (because, again, it's a video frame). In the moment you want to try and capture a real 12MP photo, but Top Shot seems like a great backup for any fleeting moments that you missed with the shutter button.
Photo Booth
This is a front-facing camera feature that automatically takes a picture when it senses a smile or pose. The way this works is neat. A white bar at the top of the screen grows and shrinks depending on how close you are to the picture threshold. It seems to work well and is very good at timing.
Object tracking auto focus
This is a pretty incredible feature where you can just tap on a subject and it will stay in focus, even if it moves or the camera moves. There's not a lot to say about this because it's so simple yet so awesome. If you're trying to take a picture of a hyper puppy, child, or anything else that won't sit still, this is a lifesaver. Your object stays in focus as long as it stays in the frame.
Real-time Google Lens
Google Lens, Google's visual search app, now works in real time when you start up the "Google Lens" camera mode. Other than that, Google Lens works the same way it did on the Pixel—if you don't know what you're looking at, it will tell you. In recent testing, I had the same issue I had when I first tried Google Lens: it's rare that I don't know what I'm looking at, so I never use Lens. It will read a QR code, at least.
Someday, someone will stick Google Lens in a robot, and then Lens will be useful. Having a dumb robot be able to identify a picture of a Harry Potter book as "a Harry Potter book" will be incredible. I'm a human that can read, though, so I don't need to open an app for that.
"Computational raw" support
Dig through the settings and you'll see the Pixel 3 now gives you the option to save raw camera files alongside JPGs. Raw files (.DNG files, in this case) are the same style that a real DSLR camera would put out, and these .DNG files store much more information than JPG. With raw, you have a much wider range of adjustment for exposure, shadows, highlights, colors, and more. The downside (and upside, really) of raw files is that they are uncompressed, and all that extra uncompressed data takes up a lot more space than a JPG. They are compatible with major image editing programs and basically nothing else, so you'll typically need to process the RAW to something else, usually a JPG, before you can post it to the Internet somewhere.
As the name "Computational raw" suggest, these aren't untouched raw files direct from the camera. Instead they go through all of Google's computational photography tricks and multi-image merges and then get saved as a raw file. This is a good thing. You've been able to get single shot, untouched raw files off a Pixel for some time through third-party apps, and they've been absolutely awful compared to what the Google Camera normally puts out. Single raw files from these tiny cameras cannot compete with the output of Google's algorithms and multi-exposure image files, so this new approach gives you the best of both worlds. The end result is an actually good quality image to start with plus all the flexibility intact.
As someone that does DSLR raw photography all the time for these phone review product shots, there's still a massive gap between a raw photo from the Pixel versus a DSLR. You're still dealing with a super tiny smartphone lens and still not capturing all that much data compared to a real camera, so the range that you can adjust the photo and still have it look good is much smaller. It's better than nothing, but any suggestion that this is for pro photographers is a joke.
One problem right now is that nothing else in the Android ecosystem really does anything with raw photos. They don't get uploaded to Google Photos, and Dropbox's automatic photo upload feature won't sync them to your computer. Instead, you have to grab a cable, manually upload them to Dropbox or Drive, or try some random third-party syncing app. Bleh. To hopefully save someone else the 10 minutes of head scratching it took me, you have to fish the raw files out of "/storage/pictures/raw," which for some reason is very different from the usual photo storage location,"/storage/DCIM/camera."
For camera samples we're having the Pixel 3 XL do battle with the iPhone XS, along with the Pixel 2 XL.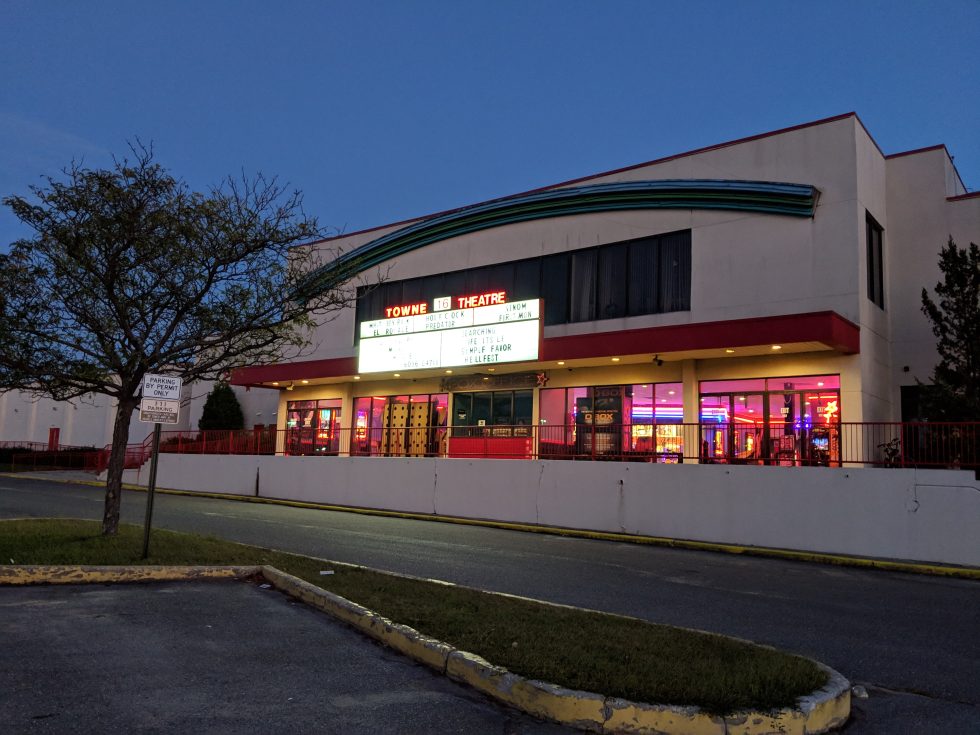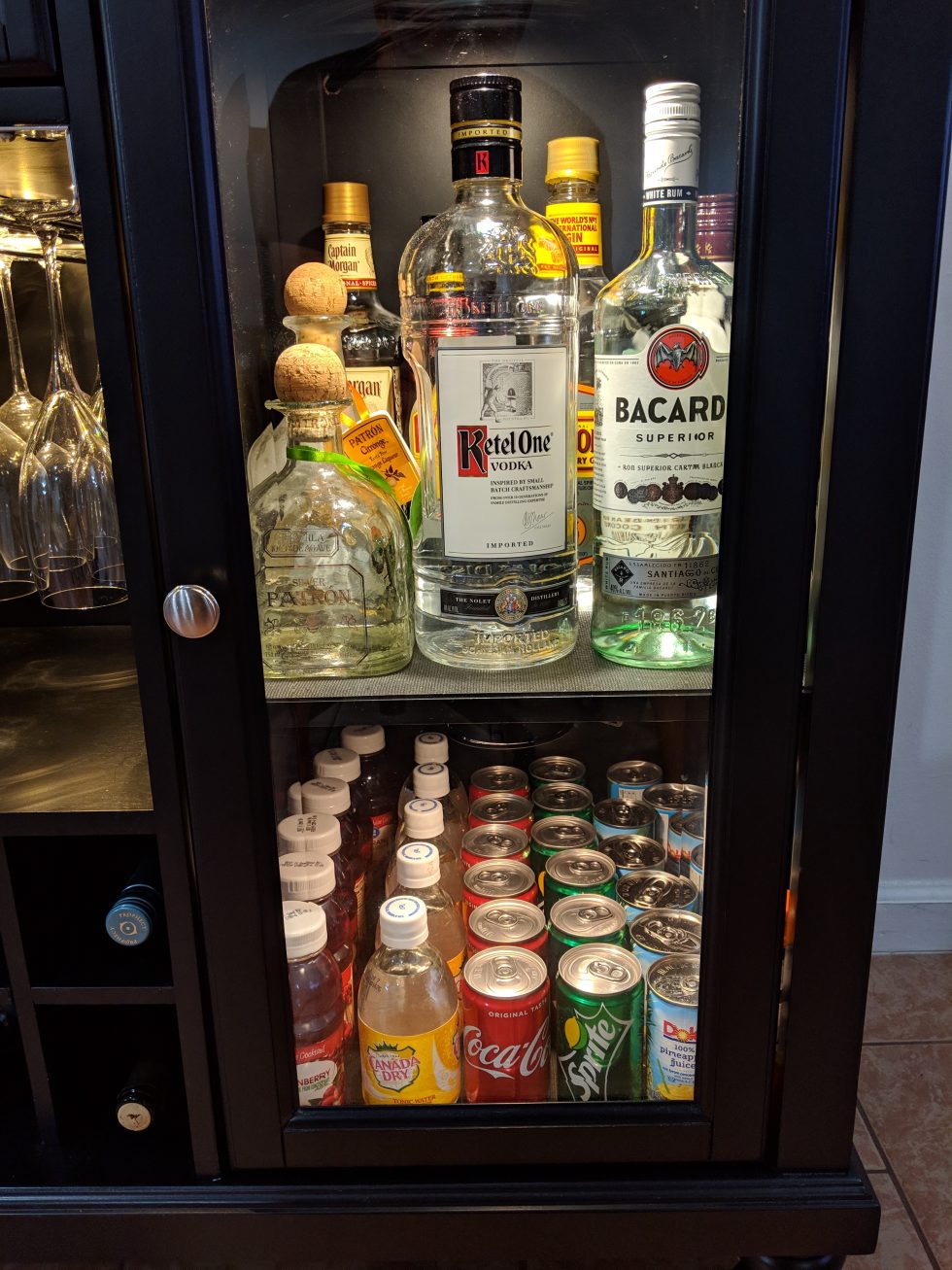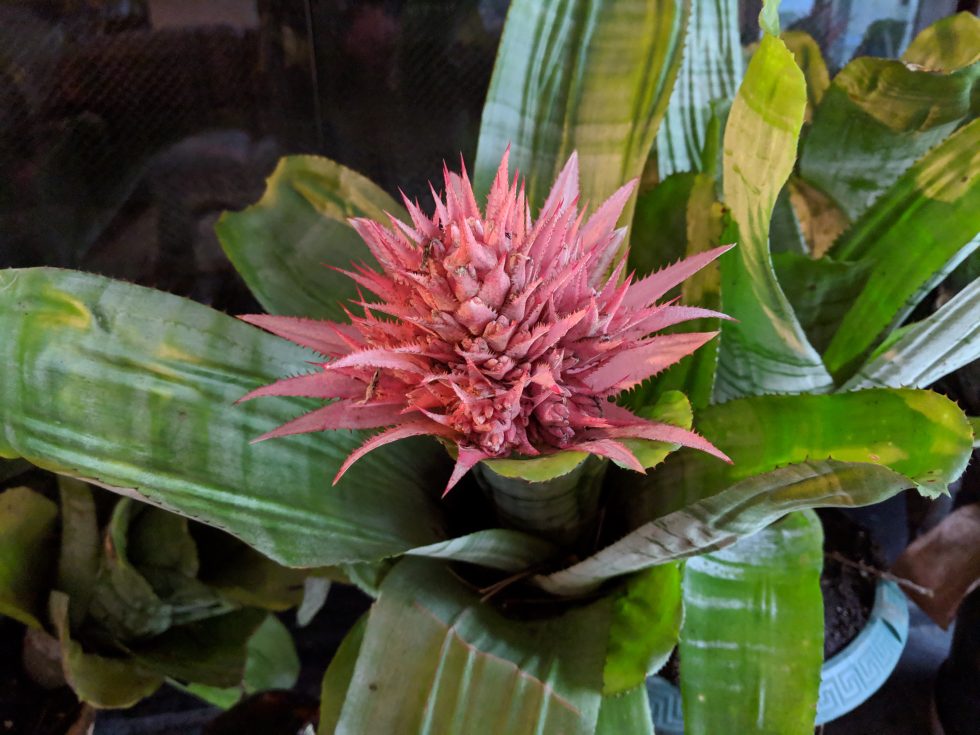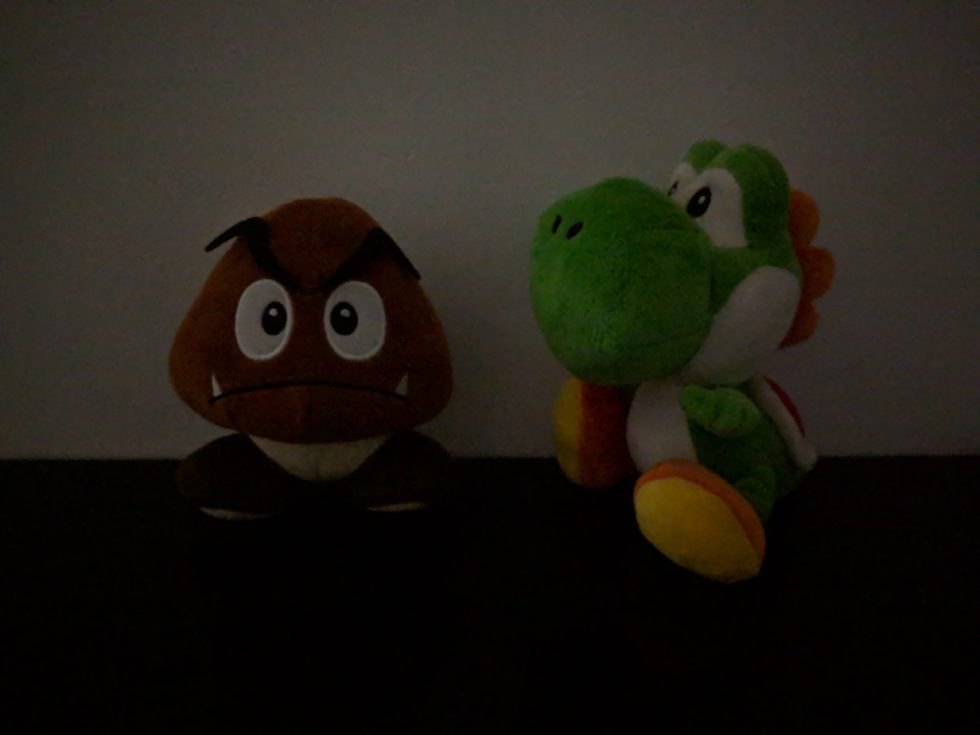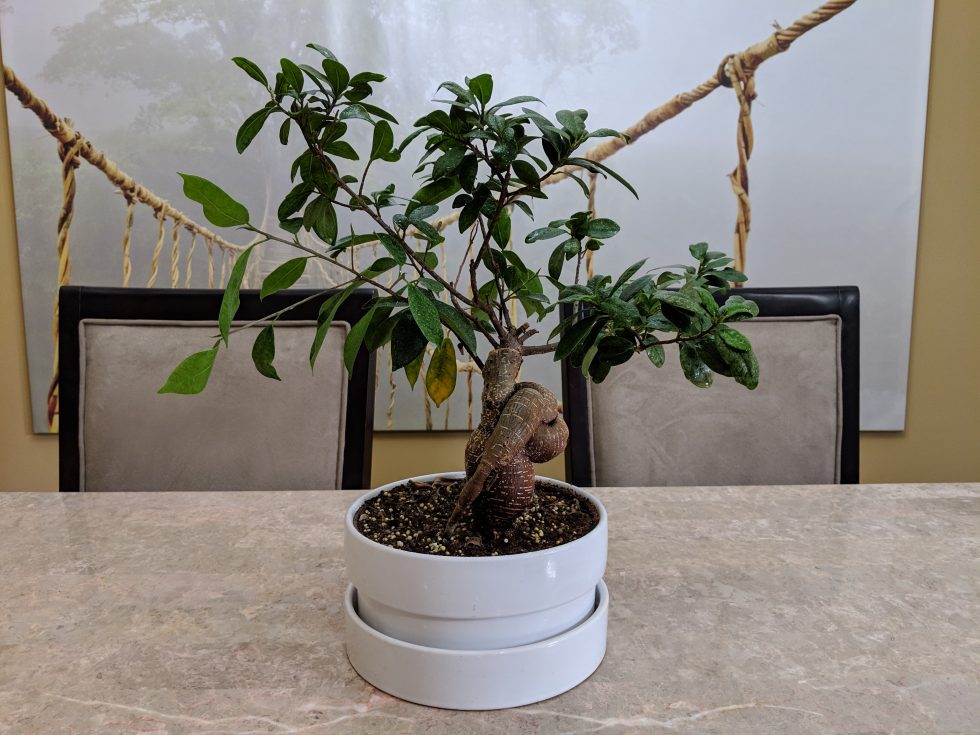 Google's growth as a phone manufacturer
In addition to launching a new smartphone, with the Pixel 3 we're also watching Google slowly (SLOWLY) grow into a respectable phone manufacturer. Remember, Google has only been going the self-branded phone route for three years now, and it has relied on outside companies to do a lot of the work under the "Google" banner. Let's take a progress report.
Development and manufacturing
Google's hardware division is still growing. Google and HTC were collaborators for the Pixel 1, 1 XL, and Pixel 2. But last year Google announced it was bringing that collaboration in-house. Google paid HTC $1.1 billion to hire the 2000 HTC employees that worked on HTC's Pixel team, saying it was "excited to see what we can do together as one team." The deal only closed in January 2018, and with smartphones taking about 18 months to develop, the team likely hasn't been fully in-house for the Pixel 3's development.
Despite not being an in-house team for the entire development cycle, there was apparently enough time for Google's hardware team to leave HTC out of the production of the Pixel 3. Google isn't very open about how it manufacture its phones, but several independent reports (Bloomberg, 9to5Google, and WinFuture) have pegged Foxconn's FIH Mobile as the manufacturer of the Pixel 3 and 3 XL. This is a big deal for Google Hardware—the company is no longer leaning on Android OEMs for engineering and design help, and it finally has the resources to build phones through the same manufacturer that HMD/Nokia, Xiaomi, and Huawei use.
Now with Google doing the design work and FIH Mobile doing the manufacturing for both devices, the smaller and larger Pixel phones feel like the same phone again. For the Pixel 2, Google split up manufacturing (and some design) work between LG and HTC, and the two phones felt like completely different devices with the same basic design. They had different display manufacturers, corner designs, glass covers, camera arrangements, logos, and more—nothing really matched.
The supply chain is probably a constant problem for a low-volume phone manufacturer like Google, and last year you could really see this with the Pixel 2 XL. Google had to get the OLED display from LG Display, a second tier OLED phone panel manufacturer that couldn't produce a panel that was competitive with the industry leaders. This year, the display is greatly improved. We haven't seen a reliable source peg the display manufacturer of the Pixel 3 and 3 XL yet, but it's conceivable that it's still LG. Google and LG Display have a "strategic alliance," though LG Display has denied reports of a 1 trillion won ($929.15 million) investment from Google. Supposedly LG's OLED panels have improved enough this year, enough that it could still have made the Pixel 3's display. Whatever happened, last year Google had a major supply chain problem, and this year it fixed it—so good work.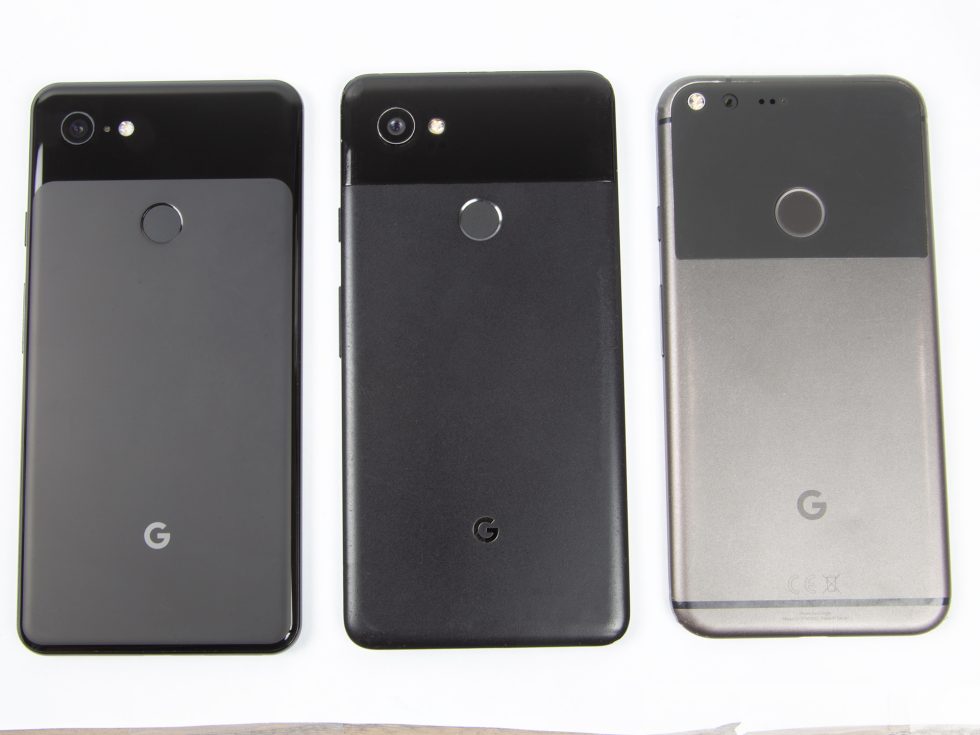 Distribution and carrier deals
The Pixel 3's distribution is still a mess, and it is easily the biggest roadblock between Google and anything approaching a mass market or a sales success story.
If you want to sell hardware, people have to actually be able to buy your hardware. That means moving millions of units around the world, keeping an uncountable number of stores stocked with your products, and complying with the laws and tax codes in different countries to actually be allowed to sell there.
There are 195 countries on Earth, but you don't want to sell in all of them. Apple, the world's first trillion-dollar company, gets away with only selling the iPhone in 70 countries. Samsung casts an even wider net, with 110 countries able to buy a Galaxy S9. HMD's Nokia phones go cheaper and even wider, selling in over 120 countries. Keep in mind HMD is not even two years old yet, which means they've been in business for less time than Google Hardware.
Google sells the Pixel 3 in—erm—13 countries, and that's a big improvement this year. When it comes to worldwide distribution, Google is a pretender in the smartphone market. The blessed countries are Australia, Canada, France, Germany, Ireland, India, Italy, Japan, Singapore, Spain, Taiwan, United Kingdom, and the United States. In the biggest smartphone market in the world—China—Google has zero presence.
Even in the handful of countries Google does sell in, it doesn't do a great job of reaching potential customers. In the US, the Pixel 3 is marketed as a "Verizon exclusive," despite being compatible with most other carriers. The "Verizon exclusive" tag misleads customers into thinking they must have Verizon to use a Pixel, which shuts off most customers as soon as they see a commercial. The "Verizon exclusive" tag typically means Verizon is paying some of the marketing costs for Google, and the phone won't be in any rival carrier stores. In contrast, an iPhone is sold in every carrier store, and Apple has almost 500 standalone stores worldwide. Google has zero standalone stores worldwide.
With such a limited distribution, Google has a much smaller base of possible customers to sell to. It doesn't matter if the Pixel 3 is good or not—it has zero chance of being a sales success compared to most other phone companies. It's no wonder that while Apple sold over 200 million iPhones in 2017, the IDC estimates Google sold just under 4 million Pixel phones in the same period. Pixel sales would be a rounding error in an Apple earnings call, and that won't change this year because Google doesn't have the sales infrastructure to put up a fight.
Pricing and lineup
Not everyone is willing to spend $800-$900 on a smartphone, and most smartphone manufacturers understand this and produce a lineup of phones at various price ranges. Again, HMD's Nokia phones are a good comparison here to show what's possible. Despite being in business for less time than Google Hardware, HMD released 11 different Android phones in 2018 at a huge range of price points. I'm not saying Google should develop that many smartphones, but it would do well to make more than what is essentially one smartphone and tackle something other than the ultra-high-end of the market.
Apple is held up as the example of a premium-only smartphone manufacturer, but if we're going by entry-level price, Google is an even more premium smartphone-only manufacturer than Apple! Apple's entry price for a phone is the iPhone 7, which starts at $449. Google starting price is the Pixel 2, which now starts at $649, a full $200 more expensive than the cheapest Apple phone. Heck, as of a few weeks ago, the cheapest Apple phone was the iPhone SE, which was only $349.
Google would do well to approach any of these price points. People would love a $350 or $500 Google phone. With the company's superior Android optimization skills, it could probably make the fastest, best performing devices at these lower price points. And Google's camera technology, which is built entirely around compensating for crappy smartphone camera hardware, could probably do wonders on lower-end camera sensors. There were rumors of a mid-range Pixel phone earlier this year, but they didn't pan out.
Google should built it. The company wants us to believe it is taking hardware seriously, but it's the only smartphone manufacturer on Earth that makes one smartphone a year.
Great AI + great software + mediocre hardware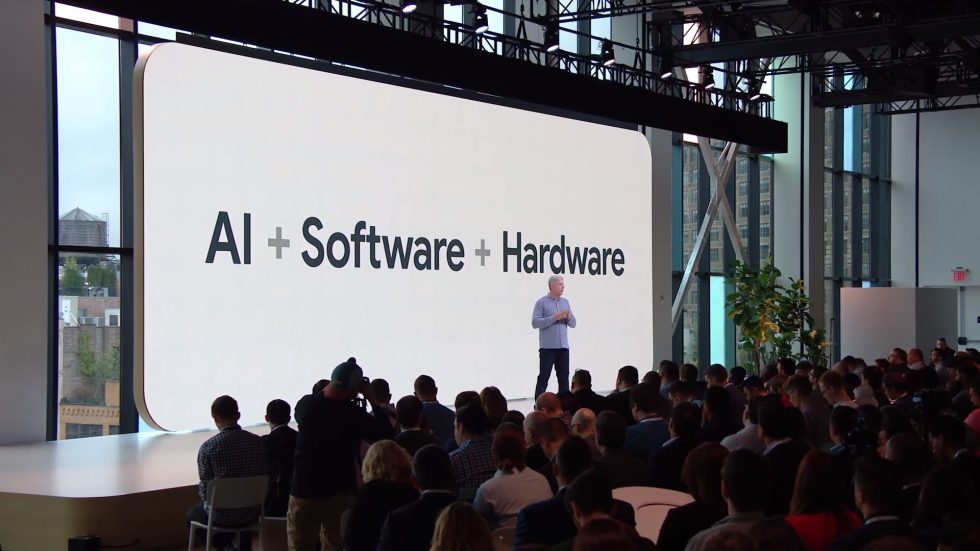 As long as you don't touch or look at the hardware, the Pixel 3 is a pretty great phone. It has incredible performance and a world-class camera. For a product line that seems created entirely around emulating and competing with the iPhone though, Google just doesn't have the hardware chops to hang with Apple or other high-end manufacturers. The Pixel hardware design constantly feels at least a generation behind the competition, and honestly the excellent software and camera packages deserve better than this hardware.
Google's Pixel line was built mainly through a collaboration with HTC—which eventually turned into an acquisition—and maybe the problem with the Pixel hardware is just too much HTC DNA. For years now, HTC has been the big loser of the smartphone market, producing sub-par phones that slowly drain the company of brand appeal and resources. Every year, the sales have been worse as a result. We've regularly looked at HTC devices with reactions ranging from "What were they thinking?" to "Why would anyone buy this?," and when you exclude the software, the Pixel hardware still gives off that same "inexplicably uncompetitive" vibe. The hardware is absolutely HTC-like in its mediocreness. If all software was equal, no one would pick the Pixel design out of a lineup.
The difference is that all software isn't equal, and the Pixel's HTC-style hardware has the luxury of being carried by Google's excellent software and AI. This is the fastest Android phone on Earth and the best smartphone camera ever, but it's paired with ugly, dated hardware that soaks up oil and is really slippery.
Google is turning in a really unimpressive spec package. There's only 4GB of RAM when many competing phones have 6 or 8GB. There's only a 64 and 128GB storage tier and no SD card, when competing devices go to 512GB. There's only a 3430mAh battery on the Pixel 3 XL—that's smaller than the Pixel 2 XL—and the Galaxy Note 9 fits a 4000mAh battery with a big plastic pen in about the same size body. Again, the general theme of this device is that Google software makes up for the deficiencies in Google's hardware, so the phone runs fast and battery life is great.
Can't we have both good specs and good software, though? Google's software should help the Pixel 3 be better than every other phone, not help it limp along on lesser hardware. It's not like the spec slashing is helping the price. You're still paying $900 for the Pixel 3 XL.
Maybe price really is the issue. Google doesn't sell a lot of Pixels, so it can't be a top-tier customer in the eyes of many component suppliers. This is all just a theory, but maybe Google has to pay more to buy competitive components at a lower volume. Maybe Google has to make up for the higher component cost in other areas, so while it gets a good screen this year, maybe it now can't afford more RAM or storage at this price range. It could all just be a cascade of problems from a weak supply chain, because the Pixel is such a low volume device that Google has no leverage.
Even Google's typically great Pixel Android package is marred this year by the mandatory gesture navigation. It's slower, clunkier, uglier, and offers no benefit to the user over the normal navigation buttons. Google only created the system this year—and I can almost guarantee it will be changed in future —so why force it on users now? It shouldn't be the default, but even if it is, at least give us the option to turn it off. Anytime Google forces a change on developers (like say, user-selectable permissions or background restrictions), there's typically at least a year of warning. Google asks for feedback and makes changes, and even when a developer-facing change goes live, Google usually provides some way for developers to opt out. But users? Eh, who cares?
Despite all the hardware problems, I suspect some people will still be drawn to the Pixel by the incredible camera performance. I really can't say enough about how good the camera is, and the easily shareable pictures on social media will provide a constant advertisement. Selfie fans will probably enjoy the wide-angle lens, too. The camera is even set to get even better next month with the release of the Night Sight.
The big takeaway I get from the Pixel 3 is that Google is just not a hardware leader today. The first Pixel looked like a bland iPhone rip-off, and the Pixel 2 and 3 are still not on board with the screen-maximizing improvements the rest of the industry is accomplishing. Google is a world-class software and AI vendor. Its phones should be a shining combination of AI + Software + Hardware, but one of those components isn't pulling its weight. Google is great with bits and bytes, but the hardware, as they say, is hard.
The Good
Amazing performance. No one optimizes Android like Google.
Day one updates, day one betas, and monthly security updates—all for three years.
Google's supply chain made big strides in the display department. It's bright, clear, and pretty.
A massive sound improvement now makes the front-facing speakers a justifiable tradeoff.
The Bad
4GB of RAM makes me wonder what the longevity of the Pixel 3 will be like. Recently 6GB seems to be the new normal, with some OEMs shipping 8GB of RAM.
The notch on the Pixel 3 XL means you don't have a lot of space for status bar icons.
Gesture navigation is slow, clunky, and not ready for prime time. Why on Earth did Google make it mandatory?
"Soft Touch Glass" is the worst of both worlds: all the fragile breakability of Gorilla Glass with none of the scratch resistance.
This whole phone is a grease collector. The sides get greasy and slippery, and the soft touch glass absorbs skin oil.
The Ugly
The hardware design is a generation behind the smartphone pack. Google has bigger notches and bezels than pretty much every other flagship smartphone.